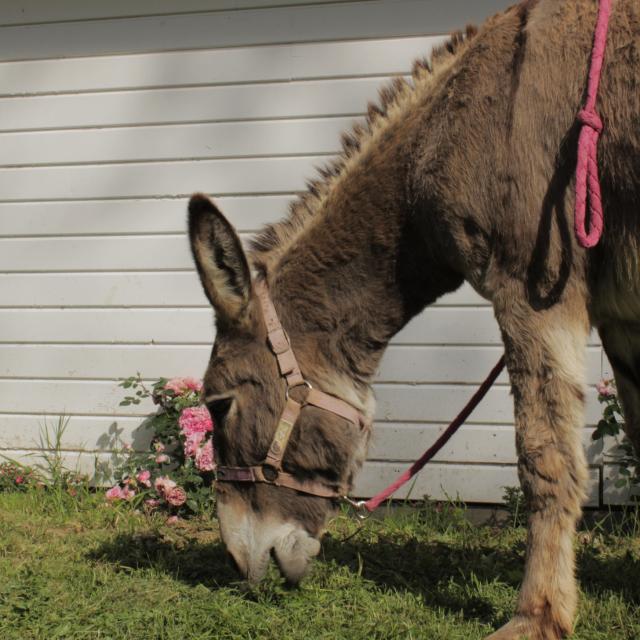 How I discovered 'slow tourism', camping among the donkeys, a stone's throw from the Loire chateaux!
L'Heureux Hasard is...
Above all, a family adventure
The campsite ambiance
Nature, Sharing & Freedom
Your tip
Here, you can disconnect, no phone, no WiFi: Make the most of it!
My favourite walk
'Hidden Treasures of the Loire Valley' for its variety:
forests, vines, fine residences…
The little extra at the campsite
The Ossyane chalet and equipped kitchen, open to all.
Who should you go with?
Family: the children love cuddling the donkeys.
As soon as I entered the cosy little chalet, which serves as a shared kitchen and lounge in this family campsite surrounded by poplars, I knew that I had made the right choice for my family. I had the heavy responsibility of finding the accommodation for our holiday! I could see in my husband and children's faces that they were won over too!
This 'Heureux Hasard' is a haven of peace that we want to share. The only noise we hear from time to time is the happy braying from Noisette or Cadichou, or one of the other donkeys.
We installed our things in our canvas and wooden hut before we cooked a small dinner, finished with some herbs and tomatoes picked from the permaculture vegetable garden. This campsite is located at the edge of the Cheverny forest. It also offers pitches, gypsy caravans and 'nomad' or 'trapper' tents. With Bastien, we were looking for something that was the opposite of 4-star multiplexes with swimming pools, nightclub and unhelpful staff, but we still wanted  an essential level of comfort, because we are not adventurers. After dinner, we sat around the campfire, enjoying the first evening of our holiday: the children had never experienced anything like it!


Introducing my children to nature
With its donkey rides, flower beds, birdhouses, insect boxes and bike rental on site, I was convinced when I found this campsite after my long search on the internet. I grew up in the countryside, but our children were born and raised in a city. I really wanted this kind of atmosphere, to show them a little what I had experienced with my grandparents, while making them aware of an eco-responsible approach, for green holidays with a limited carbon footprint.
A place, a human being
We quickly felt at home with Sabrina, who owns the site. She told us about the great adventure that led her here: after a career in international trade, she changed her life following her meeting with donkeys during a stay in Aveyron and the adoption of a little girl . She wanted to offer her a peaceful life, surrounded by these animals, in nature. QED. A conversion that leaves you dreaming: giving life to a place like this in the middle of woods and fields is the complete opposite of our over-connected urban lives!
'Madame's donkeys': walks in magnificent settings.
I had known this for a long time, but this trip confirmed it: the presence of animals that we can take care of is a source of relaxation and well-being. Here Sabrina's donkeys are never far away and the children went to see them several times a day. Sometimes they needed care and Sabrina said the children could help: they didn't need asking twice to brush them and fill their water buckets!
We were away from the campsite for two nights on a hike (on donkeys for children, walking alongside for parents) with accommodation in the surroundings. The hikes are tailor-made by Sabrina who knows the area like the back of her hand: we told her what we wanted and she suggested routes following the tracks of hinds and deer in the Cheverny forest and in the vineyards. We did about 15 km a day, which left us plenty of time for visits, tastings and speaking with people. We have rarely felt as relaxed as we do after a week here!
Emma, ​​43, married, 3 children from 4 to 11 years old, from Lyon.